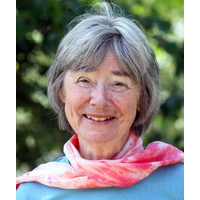 When I asked Skip Auld if the protests in Iran had made him want to change anything in his lead article, he answered, "we either negotiate diplomatically or we end up in war mode." While it might be hard to take seriously men so small that they would butcher someone for a piece of cloth, the alternatives perhaps really are as painful as Skip has stated. This issue carries a translation of "Baraye" the movement's protest anthem coupled with a review of a film by a woman in the Nema-ye Nazdik.
The Iranian genius for adapting to catastrophe is shown in the underground cities described by "Rom Rom" in Aya Midanastid? and the food is still as delicious as Chef Babri makes it. Kerry Segel's friend, Mr. Tasbibi introduces him to a remarkable doctor, Pir Musa, and John Newton recalls his life-long friendship with Barkley Moore. Be sure to check the Strategic Plan Update, a correction to the article on Dennis Briskin's award, the Dooreh-ye Ketab, Books, Books, how to make a Qualified Charitable Distribution to PCIA (the end of the year is coming) and the In Memoriam. A "stop the presses" report by Dave Devine with ten observations on his recent trip to Iran concludes this issue.
So, gentle reader, befarma'id.
---